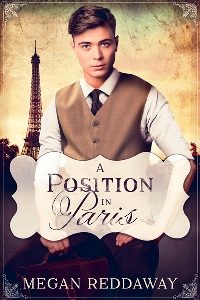 My novel A Position in Paris is a gay romance set in France in 1919. Wealthy James Clarynton has been wounded in World War One, and since his family disowned him after he was caught being sexually active in England, he is living in Paris, in the apartment that his gay great-uncle has bequeathed him.
So why Paris? Why did so many gay men see France and Italy as safe places in the 1800s and early 1900s?
The answer is that homosexual activity between men wasn't illegal in those countries, as it was in Britain, Germany, the USA and many others. In France it was decriminalized with the adoption of a new penal code in 1791, during the Revolution, and this was never overturned (although a higher age of consent was introduced during the occupation of France in World War Two, and remained for some decades after).
The same laws spread to Italy briefly when Napoleon made that country part of the French empire. Things changed back with the defeat of Napoleon, but from 1890 to 1930 there was another "window" of sexual freedom for gay men in Italy.
By contrast, gay men risked prosecution in the UK consistently from 1533 until 1967, and in all US states until 1962, when the Model Penal Code suggested decriminalizing sodomy (although many states did not do so until the 21st century). Sex between women was never specifically outlawed in many countries, including the UK and some US states, which had laws against anal sex rather than laws against homosexual activity.
So when the Irish-British playwright Oscar Wilde was threatened with prosecution over his relationship with Lord Alfred Douglas, friends advised him to flee to France, where he would have been safe. Instead he stayed, fought his case in a blaze of publicity, and lost. He was given the maximum penalty of two years' hard labour, which he served from 1895 to 1897. Then he did leave for Paris. He'd been at the height of his fame before the court case, but it all fell apart, and he died in poverty three years after his release, at the age of forty-six.
The Wilde case must have caused a lot of anxiety for other gay British men at the time and after. My other main character, Edmund, born in 1897, would have grown up knowing about it. He's more conventional in his attitudes than James, and he doesn't expect to have any love in his life.
But when circumstances bring him to Paris, where both attitudes and the law are very different, he meets James, who takes him on to type a book he's writing. Then Edmund begins to see that he could have a very different life from the one he had always imagined himself living. And that's where my story leads.