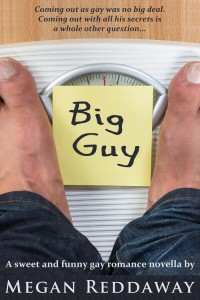 I've released a new novella: Big Guy. It's a sweet standalone male/male romance with hot guys, weird diets, a happy ending and no cliffhanger.
Overweight Truman Rautigan and his mom are about to be made homeless, but she's a top slimming salesperson who could win her dream house if Truman comes through with some sales of his own. Instead, he's stashing food in his bottom drawer and indulging in late-night binges.
When his mom sends him to infiltrate a rival weight loss group, he meets the gorgeous Brad, biker, mechanic and successful slimmer. But Brad couldn't be interested in Truman, could he? What if he knew Truman's real reason for being there? Truman could lose everything if his shameful secrets are exposed…
If you want even more bang for your buck, Big Guy is included with two other novellas written by author friends of mine in the Man Strokes bundle. Here, along with the weird diets, you also get werewolves and a wedding. In the bundle:
The Invitation by K.Y. Shelton
Cynical ex-football hunk Jesse needs his wedding booth photography business to keep pulling work to pay his bills. But when a job puts him face to face with an old friend who'd abandoned him years ago, Jesse is furious. Aaron, the nerdy shy guy who vanished without a trace after high school, is taller, broader and alive.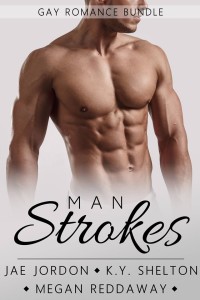 Jesse knows he needs to speak with him. But the hundreds of guests keep both the photo booth and the best man Aaron busy with activity. And the neurotic wedding planner watches on with an eagle eye. With time running out, Jesse must make a choice. Forge his professional reputation, or confront the old friend who'd broken him all those years ago.
Make Me Howl by Jae Jordon
It's never fun, when coming out gets you thrown out—especially when you haven't done any gay stuff yet. It's worse when you're not even sure you're gay. Dale's had to stay with best friend Kirk since his parents made him homeless. When he tries to find love, he's attacked. Then two handsome foreigners move in across the street, and Dale finds he knows exactly what he wants. But can he get it?
Juke, a Greenland alpha, must find his true mate before the rise of the next new moon, or be forced to marry the woman chosen by his father. He's relieved when he senses his mate in the home of Dale and Kirk. Believing his search is over, Juke and his friend go to meet their neighbors. But Juke's mate is not what he expects—at all.
Two men, with different problems—could each of them be what the other is looking for?
Plus, of course, Big Guy by me 🙂
Click on the cover to see Man Strokes at Amazon.
Here's an extract from Big Guy:
I took a couple of steps into the room. Okay, I wasn't the only male. I spotted two others, sticking close by the sides of their protective females. Then a third—oh, wow. What a hunk. Big, but muscled, with thick dark hair, wearing jeans and a sleeveless shirt. Those arms—he could have played for the Packers. What was he doing at Luvaloss? He looked perfect as he was. Somebody's husband, maybe? I hoped not, though I had no reason to care. I had no chance with a guy like that.
While I was lost in awe at his rippling upper body, a cuddly-looking young woman walked up to me, clapped her hands and exclaimed at the top of her voice, "I'm Sarah. And you must be Melinda's friend's gay son!"
Everyone stared. Fine, I thought, go ahead and announce my orientation to the whole room. What next? My weight, then my checking account balance?
The hot guy flashed me an amused smile, like he could see right through me. The idea made me nervous. I was here undercover, after all.
Sarah grabbed my arm, and walked me over to a table where three plus-sized ladies were filling out forms. "This is registration. Cassie will be with you soon."
I nodded to the ladies, and sat down to tackle the form. Mr. Tr—no, wait. 'Troy', I wrote. I always liked that name. And 'Russell' instead of Rautigan. Russell was my middle name, so it belonged someplace on the form. It could have been a genuine mistake, that I put it under 'last name'.
Cassie, the group leader, came over before I was done adding my medical history, and gave us the new member briefing. She was younger than Mom, but equally slim and energetic. I guessed a person had to be, to sell weight loss. Why did Mom think I could do it?
I zoned out while Cassie talked about food groups and vitamins. I'd heard it a million times before. I waited for the part where she would tell us about the meal replacements. Then I'd find out what the damage to my wallet would be, and how big of a storage space I'd need for my monthly cartons.
Big Guy and Man Strokes are available at Amazon