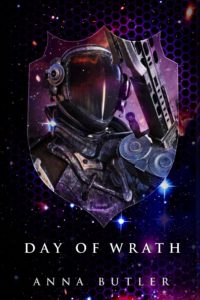 Anna Butler released the stunning final book in her Taking Shield sci fi series a few days ago. It's called Day of Wrath, and I couldn't put it down!
Shield Captain Bennet has been sidelined from his regular duties to do reconnaissance on the ship Gyrfalcon for a while now. He wasn't happy at first, but then he met Flynn. As they battled together to defend humanity against the vicious alien species the Maess, love grew between the two men in a wonderful way.
Now it's time for Bennet to say his goodbyes and return to Shield. He even gets a promotion out of it. He should be glad, and he is, except for having to leave Flynn. But reassignment is part of life in the military, and at least they have one last week together, when they can say all they need to say.
Bennet has one final task in his current role: to accompany the president on her visit to an outlying settled planet. Nothing risky, just a PR job. Until things start to go wrong …
Excerpt
The sharp ringing of the bell on the bar cut through all the conversations and laughter. The bartender could yell too. "Quiet! Lieutenant Flynn has an announcement to make!"
Bennet turned his head and jack-knifed to sit upright. Oh, the bastard wasn't—
"All right, boys and girls!" Flynn was almost bouncing on his toes, grinning. He always did like being the focus of everyone in sight. "We're here tonight because of mindless military tradition—in our case, getting traditionally mindless on good liquor as we welcome our newest ensigns—but I don't think they'd mind if I crash their party for a few minutes. Everyone got a drink?"
A host of glasses were waved at him. Bennet tried to choke down a sigh. The bastard was, damn him.
"Excellent! I like to see our old customs embraced with such fervour. We have another custom, if you remember. If someone gets promoted they buy drinks for the entire OC, am I right?"
Flynn was completely at his ease, the damned treacherous sod.
"You all know that we're kicking the captain off the ship at the end of the month and sending him back to Shield. But what you don't know is that Fleet's put such a polish on the man, such a lustre, that when Shield gets him back they're punting him up a rank. I reckon that's worth at least two drinks each. What do you say?"
Bennet put his head in his hands. Someone's hand connected painfully with the area between his shoulder blades as surprised silence fractured into cheers, yells and foot stamping. Pilots jumped up and down, waving their glasses at him. Another thump to the back and Carson was pulling him to his feet and into the most astonishing hug, yelling in his ear.
Bennet had to laugh. It was that or commit murder.
Flynn let it go on for a moment or two, before getting the bartender to ding that bloody bell again.
Bennet was half-enveloped in hugs, half-deafened by shouted good wishes. Yelling her delight, Cruz flung her arms around his neck, and the smacking kiss to the cheek had his ears ringing. His face felt as if it were on fire.
"Flynn, I am going to hurt you for this." He smiled in a way that he hoped suggested pleasant anticipation. It was hard to stop grinning and laughing, but he tried. "I'm going to dangle you out of an airlock by your favourite appendage."
"Yeah, yeah." Flynn waved a dismissive hand to a chorus of laughter and catcalls. "You always promise me that and so far, you've never delivered. There's only so long a man can hang around waiting. Point is, while we're sad to see you go, Bennet, we're delighted that you're getting promoted. We'll miss you, and Shield are damn lucky to get you back. Right, people?"
More cheers and yells that died only at the insistent ringing of the bell. Flynn raised his glass. "Charge your glasses, and let's hear it for the captain—no! For the Shield Major elect. Shield Major Bennet!"
The roar should have split open bulkheads. Bennet yelped and fell back in a scrum of a couple of dozen pilots and more were heading his way. The breath was knocked out of him with a whoosh that could probably be heard parsecs away.
Gods. He'd kill Flynn when he got hold of him. Kill him.
At least, that's what he promised himself until Flynn fought his way through the scrum to deliver his own bone-crushing hug, and Bennet saw Flynn's eyes were bleak and that his mouth was drawing down, just as his own wanted to do, and he said nothing. There really wasn't anything he could say.
Review
I love this series, even though I'm not usually a massive fan of science fiction set in space. I just can't get enough of these characters, especially Flynn, who has a special place in my heart!
This last instalment takes a plot path I never would have foreseen, and it had me gripped from the first page. There's a lot of grief here, but there's hope, too. Hope for humanity out among the stars thousands of years from now.
On top of all the emotion, Anna Butler is a suprememly skilled writer whose words make the most unimaginable scenes come to life. I won't say much more because I want you to experience it for yourself.
This is the fifth and final book in the series, and if you're new to Anna Butler's work you'd probably want to start at the beginning with Gyrfalcon (Amazon link—free at the time of writing). But the whole series comes with my highest recommendation if you enjoy queer science fiction–or even if you just like strongly-plotted stories that are wider in scope than the average gay romance.
Anna's also running a Rafflecoptor giveaway to win one of three prizes:
– 25$ (or equivalent) Amazon gift card
– signed copy of Gyrfalcon, the first Taking Shield book
– your pick of an eBook from Anna's back catalogue