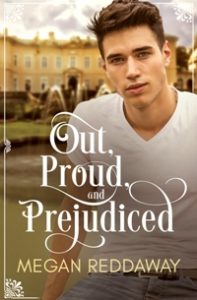 — —
** UPDATE March 16th, 2018 **
I've had confirmation that my rights on this book have been returned to me, so I'll definitely be self-publishing it on June 4th.
I have the slightly amended cover here now, too 🙂
— —
So excited! I can now reveal the gorgeous cover for Out, Proud, and Prejudiced, which is coming out on June 4th.
As you may have guessed from the title 😉 it's my own contemporary retelling of Jane Austen's Pride and Prejudice, set in modern-day England, with gay MCs. Here's the description:
— —
One's proud, one's prejudiced, and they can't stand each other.
Quick-tempered Bennet Rourke dislikes Darius Lanniker on sight. Darius may be a hotshot city lawyer, but that doesn't give him the right to sneer at Bennet, his friends, and their college. It doesn't help that Bennet's restaurant job has him waiting at Darius's table. So when his tutor recommends him for an internship at Darius's Pemberley estate, Bennet isn't sure he wants it. He's also not sure he can afford to turn it down.
Darius is a fish out of water in the small college town of Meriton, but something keeps pulling him back there. He's helping out a friend with business advice, nothing more. If he's interested in Bennet, it's not serious. Sure, Bennet challenges him in a way no other man has. But they have nothing in common. Right?
Wrong. Their best friends are falling in love, and Bennet and Darius can't seem to escape each other. Soon they're sharing climbing ropes and birthday cake, and there's a spark between them that won't be denied. But betrayal is around the corner. Darius must swallow his pride and Bennet must drop his prejudices to see the rainbow shining through the storm clouds.
— —
The cover was revealed on USA Today's HEA blog. I adore it, especially the model, who has exactly the blend of casual, intense, and challenging that I wanted for Bennet. Many thanks to Natasha Snow for doing such an amazing job!