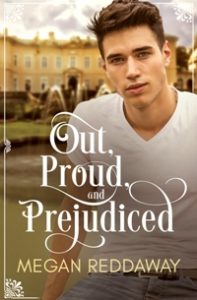 Finally … it's publication day for
Out, Proud, and Prejudiced!
And to mark the event, I've started on a blog tour.
My first post is at The Novel Approach where I'm talking about how it felt to be reimagining Pride and Prejudice: which parts came easily, and what was harder.
There should also be plenty of reviews appearing on book blogging sites in the next few days.
From Jules's review at The Novel Approach:
. . . whether you're familiar with the original or not, there are many fabulous things to enjoy about Out, Proud, and Prejudiced.
And some comments from advance reviewers:
i don't know anything about pride and prejudice, so i can't compare this book to it or anything. but i really enjoyed it! there was a lot of romantic angst and drama
–Percy on Goodreads
Note regarding the angst: there is mention of past abuse in the life of a young secondary character, which I've added to the description as a content warning. This isn't a rose-coloured world where everyone is lovingly embracing diversity. The bad guys are bad.
My favorite thing about this one was the hate to love story between Bennet and Darius. It was done so well. This was a really slow burn (if you've read P&P then you probably understand why) but we do get a little steam from them in the end.
–Julie on Goodreads
Order links: