I've just released a full-length novel. Shelter Me is a dystopian gay romance set in a pre-apocalyptic future. I think it's the best thing I've written so far. I hope you'll love it!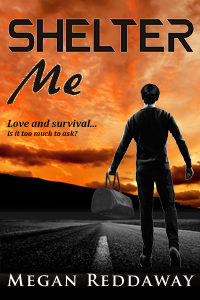 Love and survival — is it too much to ask?
Leo Park is an empath on the run. He's escaped the secret research facility where he's been held since he was six years old, but how can he survive without being captured? He has no money, all his ideas come from old movies, and he's carrying his baby brother, smuggled out in a carton.
Cole Millard lives by his own rules in the Oregon woods, refusing to fear the world war that's coming closer every day. Now his freedom is threatened by a naive 19-year-old with a baby in tow and a spooky way of knowing what Cole is feeling. But Leo is vulnerable and desperate. What's a guy to do?
Shelter Me is a fast-paced dystopian gay romance novel set in a not-too-distant future, with a hot backwoodsman, a desperate fugitive, a six-month baby, and the world on the brink of an apocalyptic war.
Length: approx 220 pages (66,000 words)
It's the first in my new Heven series but it could stand alone. It has a proper ending – no cliffhanger!
Here's an extract from Shelter Me:
~~~~~~~
Leo set the bag down and took Jae out of it. Jae's mind brightened at once, happy to be out. Leo turned around slowly, so Jae could see everything.
"Look, little bro, some of the trees are changing color—the ones that aren't evergreens. I bet you were never up so close to a tree before. What do you think, shall we explore? You'd like that, wouldn't you? We're out free in a real forest, and who knows how much time we have together. We don't have any special place to go, right?"
Jae waved his arms and said, "Bub-bub-bub."
"Isn't it prime? Look, there are leaves and birds and all kinds of stuff."
Leo went on, carrying Jae and the bag separately, heading uphill, away from the road. It was good to have no people around, asking questions. He wasn't used to strangers. But being alone, except for Jae, was weird, too. He caught himself checking for security cameras … in a forest.
He found a thin trickling stream and followed that awhile, then sat beside it and ate two bananas, playing peekaboo with Jae—the regular kind, hiding his face and peeking out. He tried Jae with some squished banana from his own mouth, but Jae spat it out, so Leo gave him more milk from the bottle. He sniffed around Jae's rear. It didn't smell, and Jae wasn't uncomfortable, so the diaper must be okay.
Then he headed back to the highway, or he planned to. He went along the stream, but he couldn't find the place where he'd come out of the trees.
"I know it's downhill," he said to Jae. "We crossed the stream a couple of times, but I think we started out on this side. Hey, here's a place where someone's come through. Maybe this was it."
They went on down, away from the stream, following some kind of path. But it twisted and turned and went back uphill. He figured a path was a path—it must lead somewhere—and he kept on going. Then the way ahead was blocked. Leo stopped.
"The bushes weren't so thick the way we first came up. I guess maybe we took a wrong turn somewhere?"
He concentrated his mind. If they were close to the road, he should sense people zipping through in their cars. But he only felt the low-level fears and hungers of small animals.
Maybe this was a quiet time for traffic. He waited.
Then he sensed one human. A stealthy, quiet mind, moving slowly, coming closer.
Hunting.
Tracking them…
~~~~~
Want to know what happens next?
Pick up a copy of Shelter Me at Amazon today!
And if you like it, please leave a review. It makes a huge difference to authors to see positive reviews of our books, and encourages us to keep writing for you!