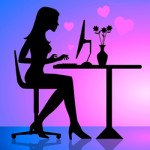 There's been a discussion on social media this week about paying writers. Stephen Hull, the Editor-in-Chief of Huffington Post UK, said in a radio interview last Thursday: "When somebody writes something for us, we know it's real, we know they want to write it. It's not been forced or paid for. I think that's something to be proud of."
But they earn money from the ads that run on their site, and they don't have to share it with any of their contributors (except the salaried ones, presumably including Stephen Hull). Not surprisingly, writers are pretty upset about being told their work is more "real" if it's not paid for. People in other professions don't expect to have to work for free.
How about if a company's owners called their staff together and said, "We want our services to be more authentic, so you guys will be working for us for free from now on. You can leave if you want, but this is the way the sector's going, so you won't find other jobs in this industry. It's a big improvement, because our customers will know you're doing what you want. Your services won't be forced or paid for. (And we get to keep all the profits – but of course that's not why we're stopping your salaries…)"
Does anybody think the work of a plumber, teacher, doctor or garbage collector would be more "real" if the person wasn't paid? Aren't they more likely to do a better job if they ARE paid … because they need to give good value to whoever is paying them?
The same is true of writers, including fiction writers as well as Huff Post journalists. Those who write for free may write very well, but they don't have any incentive to spend more time on a story than they want to.
They're likely to write a first draft, put it online and move on to the next idea. Why bother doing the boring parts, like research, rewriting, editing, proofreading and polishing – the work that turns a piece of fiction from clunky and confusing into a seamless, engaging, enjoyable or even thrilling reading experience?
Some fiction readers (like some music fans) think the work of their favourite writers or bands should be free, so they share it on illegal download sites. It's great that they want to spread the word – but this is the wrong way to do it.
If it's done on a large scale, it will mean a lot of authors will stop writing, or will write less, or won't make their work as good as it could be, because they'll have to earn money another way.
Is that really what readers want?
Let me know in the comments…