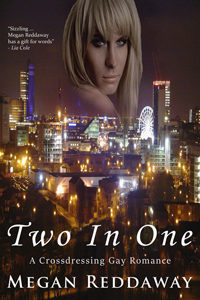 When he's taken to a drag bar by a friend, shy 'straight guy' Alex finds he's fascinated by the girls he sees. But his Cinderella is not so sure that Alex is her prince …
Two In One is a hot and sweet crossdressing short story. It's set in Manchester, UK, and I originally wrote it for limited release to people attending the 3rd annual UK GLBTQ fiction meet in Brighton.
With the 6th meet coming up in a couple of weeks, I've now released the story into the wild. You can get it at Amazon.com and all other Amazon locations.
Length: approx 5,500 words (approx 20 pages)
UK GLBTQ Fiction Meet 2015
I can't wait for the 6th annual meet which is happening on 11-13 September – in just 12 days! We'll be in Bristol again and I'm looking forward to seeing old friends and making new ones!
The programme is a delight. I'm so tempted by the BDSM workshop on Saturday, even though I don't see myself writing BDSM. You never know, right?
And Sunday will be a nightmare because we are so spoiled for choice. I have to pick only ONE of these:
Character building workshop
Humour in fiction
No thank you, Delia – reading and writing love & romance without "stuffing the turkey"
And then only ONE of these:
Sex scenes, what makes them sizzle? And what turns them into a damp squib?
Unlocking your dark side – convincing killers, gripping plots and the like
I want to go to them all! Might have to stick a pin in the programme. What would you pick? Let me know in the comments!