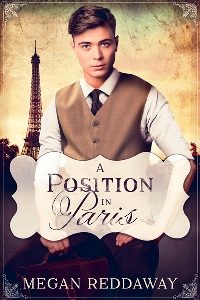 It's release day for my new book,
A Position in Paris . . .
Paris, 1919. World War One is over, and wounded hero James Clarynton is struggling to face life without one leg, one eye, and the devilish good looks he had before the conflict. Now he must pay for affection, and it leaves him bitter. He's filling the time by writing a book—but it's the young man who comes to type it who really intrigues him.
Edmund Vaughan can't turn down the chance to be secretary to the wealthy James Clarynton. He's been out of work since the armistice, and his mother and brother depend on him. But he has secrets to hide, and the last thing he wants is an employer who keeps asking questions.
As they work together, their respect for each other grows, along with something deeper. But tragedy threatens, and shadows from the past confront them at every turn. They must open their hearts and trust each other if they are to break down the barriers that separate them.
Romantic historical novel… Very satisfying… a wonderful and tender story of falling in love and finding your soul mate.
— Richard Derus on Goodreads
And here are the order links for the book. Don't forget you can "try before you buy" and look at the sample if you're not sure whether it's for you!