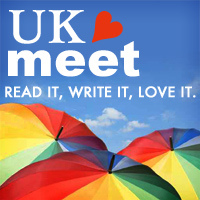 I had a fabulous time at the UK GLBTQ Fiction Meet 2014, held at the Marriott Hotel in Bristol on 6-8 June.
150 wonderful people were there — authors, readers, publishers — including some people who ticked all three boxes.
It's the third meet I've been to and I've loved them all. They just get better and better! Let me share some of my highlights with you:
Networking!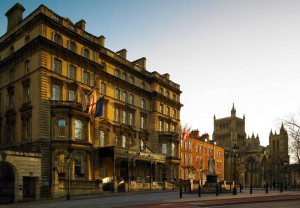 I've never learnt to 'work a room' but fortunately there were tons of easy opportunities to chat over drinks or food (which was plentiful, to say the least!) or just randomly in corridors. It was great to reconnect with people I'd met before and to make new friends.
The GLBTQ Fiction world is a very friendly one. The first time I went to a meet, I was amazed to find how uncompetitive the authors, publishers and bloggers were.
Of course it's partly because we're all such lovely people 🙂 but I think it's also a feature of the huge potential for growth in the M/M romance and other GLBTQ fiction markets. More writers, more publishers, more books means more public awareness, more readers, more book sales. Win, win, win all round.
Panels
It wasn't all wine, food (those pastries! those buffets! *drool*) and chatter … I actually learnt a lot, too. And fortunately, I stopped eating long enough to make a few notes so I can pass some of it on. (All opinions and errors here are mine, not the panellists'.) Here's the lowdown on some of the panels I attended:
Novel Openings
A fun session with 12 writers reading the first 150 words of a novel or story, to remind us how important it is to hit the ground running and grab the reader's interest in the first paragraph or two.
The opening needs to hook the reader into the main issue/problem of the novel, with no 'info dumping' and without introducing too many characters too fast.
Publishing, Covers and Contracts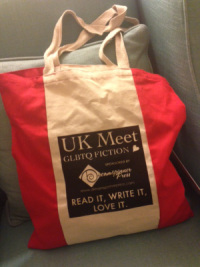 Three separate sessions about working with publishers – what to expect, how to find good publishers, how to avoid bad ones, and how to help a cover artist come up with the perfect cover for your book.
For covers, a writer can supply their own stock photos as a suggestion, and it's worth spending time completing the cover query form. The cover artist won't read the story, so you need to pass on any physical descriptions of characters that are in the book, including age. If there's an iconic scene, theme or situation, consider asking the artist to illustrate that.
Finding a good publisher is often a question of asking around. Writers shouldn't have to pay reading fees or editing fees to a publisher – you may want to hire a commercial editor if you think your book needs it, but that's separate from the publishing process.
Most ebook publishers are small businesses and any business can fail. One new-to-me tip: as an author, don't put all your eggs in one basket by giving all your work to the same publisher, however well established. It can be worth taking a risk on newly-established publishers too, but perhaps not with your first book or with a major series.
And it was a surprise for me to discover that when rights revert to the author after the expiry of a published work, it's only the original submission that the author retains the right to, not the edited and published text – and of course not the cover, unless you provided it.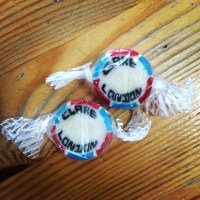 Off on a tangent …
Since I included the picture of the tote bag above, I'd better explain it was packed full of goodies! My favourites were the rainbow lei, the notebooks (useful!), the USB cable from Wayward Ink, all the pens and chocolates, Clare London's seaside rock mints (pictured on the right), and Sarah Granger's card with a money-off coupon for her M/M historical romance, A Minor Inconvenience, which I've read since the Meet and loved.
Avoiding the Mid Novel Crisis
This panel featured Jordan Castillo Price who started us off with a poll on how many writers in the room were 'pantsers' (writing by the seat of their pants) and how many were 'plotters'. I think the split was about 50:50. The consensus seemed to be that mid novel crises are more common for pantsers, because plotters can jump ahead and write a different scene if they feel lost.
I'm mainly a plotter, with a good idea of most of the important scenes in a story (including the end) before I start, but I don't always know exactly how a couple are going to get together or resolve their issues until they do it, and a lot changes between the first and second draft.
So here are a few of the useful tips for what to do when your plot has disappeared into a black hole and your characters are sulking in their separate rooms:
switch from one type of writing tool to another – computer, pen, pencil, audio dictation

brainstorm a list of things that COULD happen, however wacky

brainstorm a list of things that definitely WON'T happen

have someone read what you've written so far, and ask them to guess what's going to happen next (without confessing that you don't actually know yourself!)
And more …
Keynote speeches were given by author Belinda McBride on writing alongside her role as a carer, and author and publisher Aleksandr Voinov on his writing (in two languages – or was it three?), and gender identity in and out of fiction.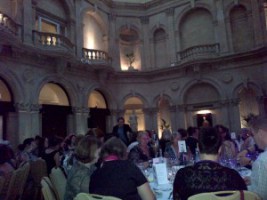 I embarrassed myself at the Writing Sex Scenes table – expressing myself in the spoken word has never been my strong point – but I picked up a lot of useful tips and reminders there too, e.g. sex is nervewracking! All helped when I needed to organise my thoughts for this post on Anna Butler's blog after the Meet: Whose Is That Throbbing Member? Writing His & His Sex Scenes
A panel on Marketing offered some eye-opening tips on branding (gave me a much-needed kick to update the design of this blog!) and the Research panel suggested using YouTube to hear how things like car engines really sound.
Finally, it was great to hear about other organisations we can venture into if we want to expand our networking beyond the UK Meet. We heard about the Rainbow Romance Writers chapter of the Romance Writers of America, and the Romantic Novelists' Association. Prizes can be won at the Lambda Literary Awards and Rainbow Awards. And kudos to Charlie Cochrane who is giving talks at literary festivals and in libraries!
Entertainment
We've come a long way from the first meet I attended, in Milton Keynes, where we had a fun but messy shared lunch with everybody bringing a random dish, and dinner, for those who wanted it, in the pub next door. This year, lunches were laid on in the Bristol Marriott hotel. Dinners were optional extras, but booked in advance, and seamlessly smoothly organised.
On Friday, we had a delicious buffet at the Mauretania bar just up the road, followed by stunning entertainment with a beautiful compere and a jaw-dropping male pole dancer 😉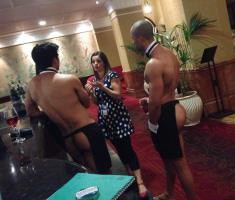 On Saturday, we packed the Marriott's Palm Court restaurant for the gala dinner, with an eclectic mix of entertainment including Eddy OK Adams, the Songbirds LBT choir and the pictured topless butlers wearing nothing but aprons, whose rear views were as revealing as they look!
A little bird told me that Charlie Cochrane booked the choir and Liam Livings booked the butlers … why was I not surprised? 😉
Can't wait for next year.
All photos are reproduced by kind permission from http://ukglbtfictionmeet.co.uk, where you'll also find details of next year's event in due course.