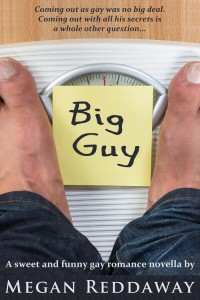 Overweight Truman Rautigan and his mom are about to be made homeless, but she's a top slimming salesperson who could win her dream house if Truman comes through with some sales of his own. Instead, he's stashing food in his bottom drawer and indulging in late-night binges.
When his mom sends him to infiltrate a rival weight loss group, he meets the gorgeous Brad, biker, mechanic and successful slimmer. But Brad couldn't be interested in Truman, could he? What if he knew Truman's real reason for being there? Truman could lose everything if his shameful secrets are exposed . . .
Big Guy is a sweet standalone male/male romance novella with hot guys, weird diets, a happy ending and no cliffhanger.
Length: approx 17,500 words

Order links: Amazon / iTunes / Nook / Kobo